Robotic Process Automation (RPA)
Robotic Process Automation is a technology that allows you to simulate a human being interacting with a traditional computer screen interface to do data entry, or automate business process tasks through the Software Application interface that exists for Human Interaction.Webs Utility has been at the forefront of RPA automation for the last 5 years. We specialize in RPA implementation services for a variety of sectors including financial services, healthcare services, and real estate services.Webs Utility can automate data entry between diverse financial software applications and reduce manual tasks through RPA.
Benefits
Automate a large number of repetitive tasks without human intervention.
Automate manual high volume data entry across multiple systems
Automatically move a high volume of data between software applications, and/or Cloud SaaS Solutions
Extract data from PDFs, Excel sheets, scanned documents
Prepare automated reports and send them on schedule
Capabilities of Robotic Process Automation
Robotic Process Automation has a lot of potentials that most companies not yet recognize the complete capabilities of RPA.
ROBOTS ARE COMPUTER CODED SOFTWARE
ROBOTS ENABLE THE AUTOMATION OF REPETITIVE RULE BASED PROCESSES
ROBOTS MIMIC INTERACTION OF USERS
ROBOTS WORK ACROSS FUNCTIONS AND APPLICATIONS
Business Process In Which RPA Can Be Used
Take over repetitive tasks that employees carry out 50-60 times a day
Periodic reporting, data entry and data analysis
Mass mail generation, archiving and extracting
Mass mail generation, archiving and extracting
ERP Transactions
Process lists and file storage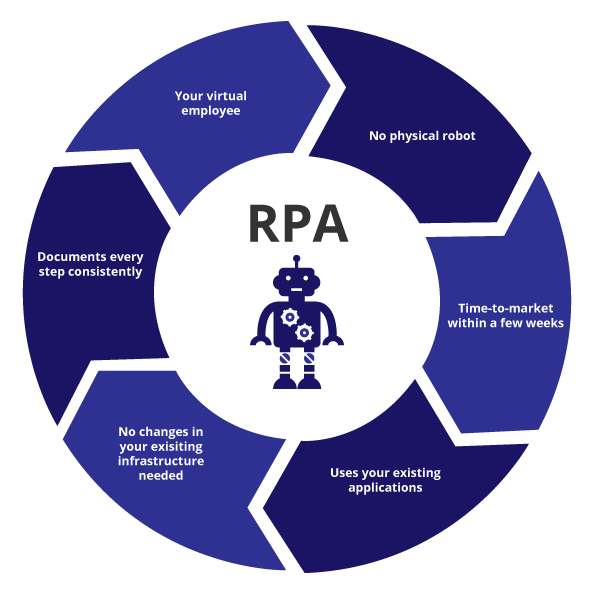 Planning of The RPA
RPA is not an overnight journey but a continuous process to identify the opportunities and keep engaging with the key stakeholders with the IT consulting services and delivering those improvements.
While earlier advancement was focused on process standardization; NVA elimination, current advancements help reduce the manual data entries, repetition of the tasks, and avoiding human error.